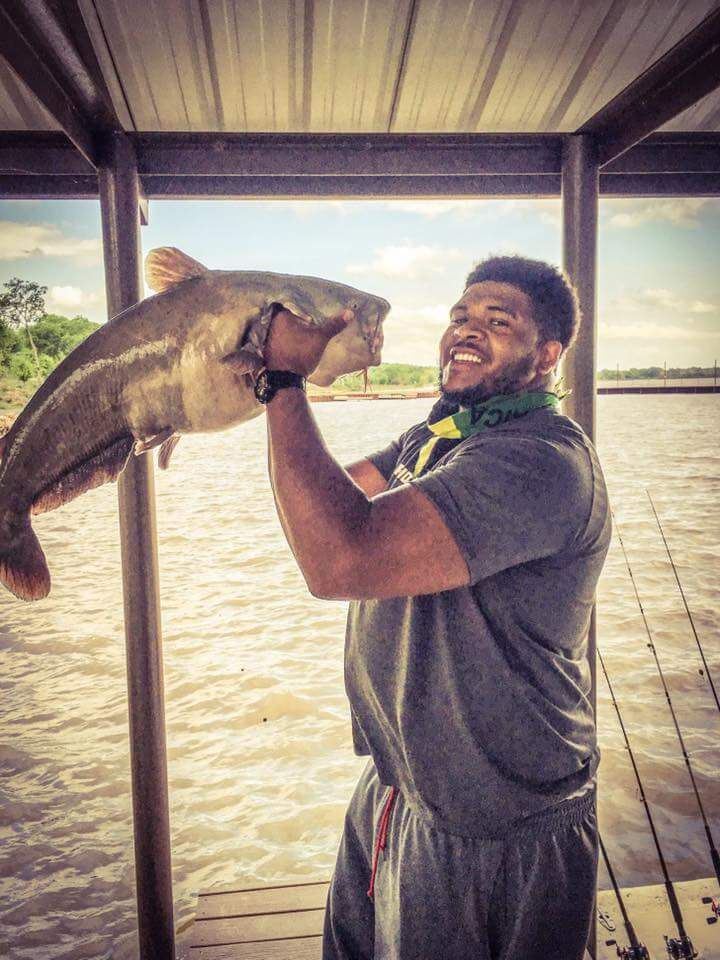 Beacon Hill on Cedar Creek Lake was chosen as the Sponsor Spotlight at the recent live taping of Inside the Huddle on Monday, October 21st. Vice President of Sales and Marketing, Joseph McGinley represented the development and introduced the prestigious community to host Jane Slater and Dallas Cowboy offensive lineman, Joe Looney. Slater is familiar with the lake area as she has enjoyed excursions with family and friends this past summer investing her time in a few water activities with plans to return soon.
During the segment, which airs Sundays at 9am on TEXAS 21 Dallas / Fort Worth, McGinley shared an epic photo taken at the luxurious Beacon Hill Marina Club of La'el Collins, Dallas offensive tackle. Collins (pictured left) is holding up a prized 32 pound catfish caught just minutes after casting his poll. Looney accepted the challenge of beating that record.
Following the event, fellow sponsors met with Mr. McGinley to further discuss the community. Agents from the Dallas area were eager to hear about the growth that Beacon Hill is experiencing and several tours were requested for the coming week.
We are thrilled to be a part of this show, and continue to express our gratitude for the work that the Inside the Huddle Team does for our sponsors.
Call or email info@LiveAtBeaconHill.com