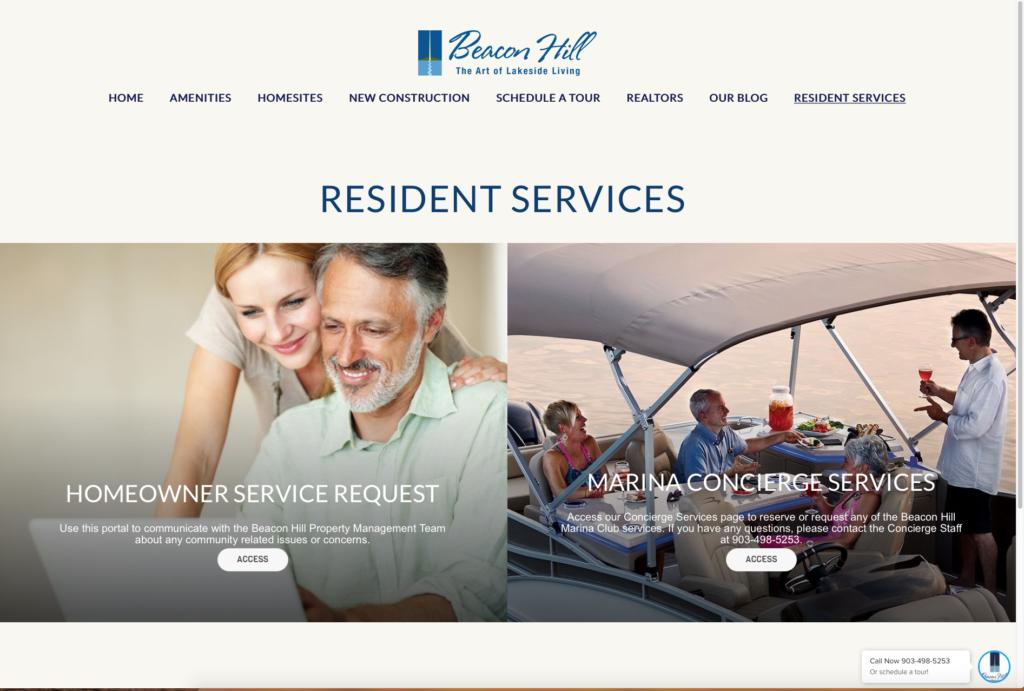 As our newest landowners are finalizing their new lake houses and beginning to move into our community, the Beacon Hill Property Management Team has launched a new feature on liveatbeaconhill.com.
Our Resident Services feature now enables homeowners the ability to directly communicate any community concerns with the Beacon Hill Property Management Team and our Senior Management Staff. Beacon Hill, which has over 140 acres of waterfront features and amenities, is maintained with great pride and effort from our round-the-clock property management team. Our homeowners can now assist us with this process through this new Online Portal.
At the latter part of 2018, Beacon Hill also launched Marina Concierge Services where homeowners may reserve or request any of the Beacon Hill Marina Club services.
"We are delighted to provide these additional tools to our newest residents as they prepare to move into our 140 acre lakefront community", quotes Joe McGinley, Executive Marketing and Sales Director of Beacon Hill on Cedar Creek Lake. "Our community allows full-time occupancy, so we anticipate our Homeowners using all of our amenities and gated entryways as they commute to the Dallas Metroplex, which is the shortest distance from our great lake", says McGinley.
Beacon Hill will continue to update our services and amenities as this beautiful waterfront community continues to become home for new residents.
Please visit us at www.liveatbeaconhill.com for more information or to secure your future homesite.
Call or email info@LiveAtBeaconHill.com