Cedar Creek Lake's Newest Rotarian, Mr. Mark Meadows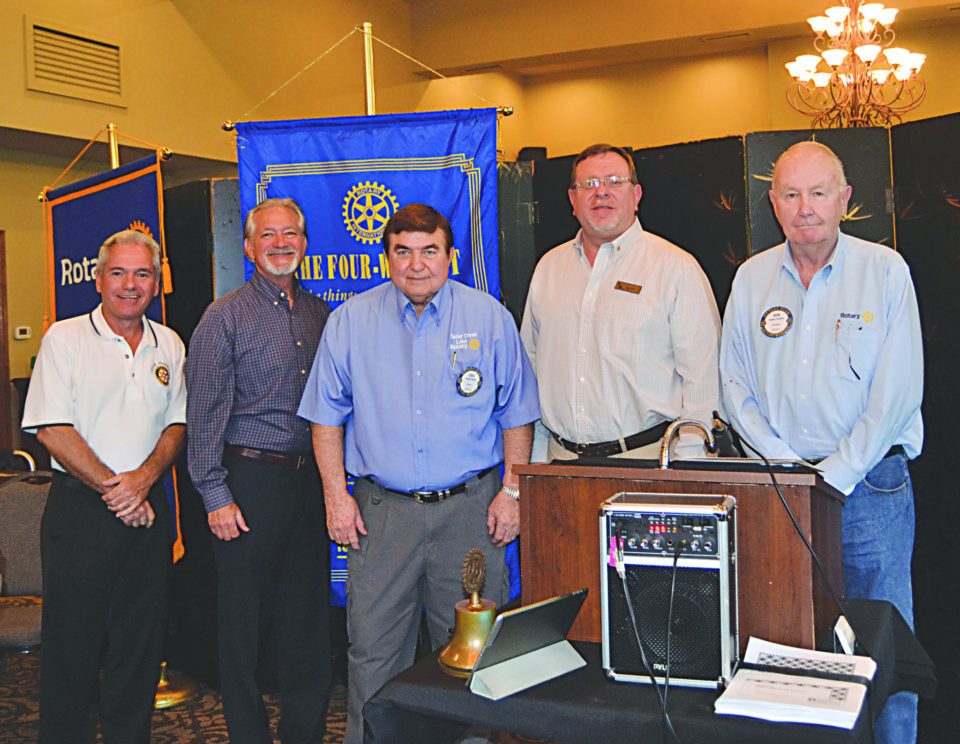 April 13, 2018 – The Rotary Club of Cedar Creek Lake welcomes Mark Meadows to the list of members who seek to serve their community. Mark and his wife, Jacqueline moved from McKinney, Tx. in the latter part of 2017 when they discovered the beauty of Beacon Hill and all that the wonderful lake community has to offer. Now, Mark and Jacque are full-time residents, making Cedar Creek Lake where they "hang their hat".
The qualities of the Club are what initiated this interest in becoming a member. Mark states that "The Rotary is a charitable organization that actually does something. They are involved in a non self-serving way." Mark is also a member of the Marine Corps League, an organization that supports Marines and Navy Corpsman.
Pictured above, Rotary Club of Cedar Creek Lake President-elect Greg Cooley (center) welcomes new members Ron Francis and Mark Meadows. Joe McGinley, Beacon Hill's Executive Vice President, joins Meadows, Cooley, Francis and sponsoring member Bob Halford on this occasion.
(photo credit,
The Monitor Newspaper – Cedar Creek Lake
)
Rotary Club of Cedar Creek Lake: http://rotaryclubofcedarcreeklake.org/
The Monitor of Cedar Creek Lake: http://www.themonitor.net/events.htm
Call or email info@LiveAtBeaconHill.com 
Schedule A Property Tour Today
Only 40 Minutes From Dallas
Our unique lakeside location, is only 40 minutes from Dallas. Beacon Hill is located on the northern most part of the Cedar Creek Lake, the perfect choice for permanent residence or weekend getaways allowing for a full day on the lake while maintaining the ability to enjoy Dallas nightlife.