June 9th, 2017
With the recent onslaught of new residents here at Beacon Hill on Cedar Creek Lake, the Community's Chief Wildlife Biologist has been busy preparing the 9 acre Interior Lake Ava Rosetta for some great Bass Fishing.
"As part of our Bass Preservation Initiative, we have been catching and removing some pretty big Catfish from our 9 acre Fishing Lake within the confines of the Beacon Hill Community here on Cedar Creek lake", quotes Mark McDonald, Chief Wildlife Officer. "We want our future homeowners to enjoy this amazing amenity and I look forward to continuing our maintenance and preservation programs currently underway", says McDonald.
Marks program, which helped net a 20 pounder caught this afternoon, will help the stocked Bass flourish in this peaceful fishing oasis, exclusive to the residents of Beacon Hill.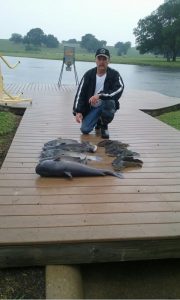 To visit Lake Ava Rosetta,  please visit the community in person at 12900 US Hwy 175 in Kemp or call the Sales Team at 903-498-LAKE (5253) to schedule a personal tour.
---
---