The 2018 Rotary Club Golf Tournament at Cedar Creek Lake was proudly co-sponsored by Beacon Hill at Cedar Creek Lake. Pictured from left to right; former Dallas Cowboy great and 3-time Super Bowl Champ, Kevin Smith, 4-time Pro-Bowler Dallas Cowboy and NY Giant, Emerson Walls, Executive Vice President of Beacon Hill, Joe McGinley and on the right, former Dallas Cowboy and NY Giant, David Bueler.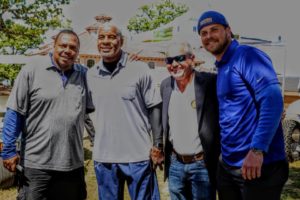 The players were auctioned off and displayed their golfing expertise at The Pinnacle Club Golf Course.
A special thanks to Dallas Cowboy Cheerleaders Kelsey, Erica, Nicole, Maggie and Jenna for helping the Beacon Hill Event Team with this amazing charity event.
We look forward to working with this great group of professionals as we continue to host and co-sponsor these Lake events. This group was nothing short of amazing and we are proud to have had the opportunity to work with them.
Call or email info@LiveAtBeaconHill.com